Phoca Restaurant Menu version 1.0.1 Lite has been released. In this version new features were added in Multiple Edit. Now items can be added, published, unpublished and deleted in Multiple Edit too.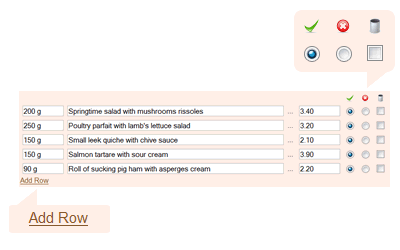 Phoca Restaurant Menu component has been released. Phoca Restaurant Menu is a Joomla! component. This component allows creating menu for restaurant, cafeteria, fast food, school canteen, buffet, bar, club, snack bar, wineroom, etc. Such menu can be displayed on a website, printed on a sheet of paper or emailed to customers.
See demo:
https://www.phoca.cz/restaurantmenudemo/
See Phoca Restaurant Menu site for getting information about this component:
Phoca PDF Component version 1.0.1 and Phoca PDF Plugin version 1.0.1 have been released. Some minor bugs were fixed and support for opening window with PDF document in IE 8 was added.
Phoca Gallery Search Plugin version 2.2.4 has been released. In this version the Itemid solution was added, so SEF links should be created correctly when a menu link to Phoca Gallery is created in Joomla! site.
Phoca Gallery 2.2.4 has been released. In this version some minor bugs were fixed (like e.g. displaying detail image with help of shadowbox in IE 8).