Phoca Cart is e-commerce extension - complex shopping cart for Joomla! CMS. Phoca Cart is directly written for Joomla! framework and designed by modern Bootstrap library.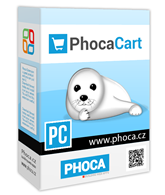 Requirements:
Joomla! 3 (stable or any later version)
PHP 5 (or any later version) with GD library (graphics library for thumbnails creation). See Joomla! requirements for each version
It is recommended to install modules like e.g. Phoca Cart Cart module is.
Screenshots:
Videos:
Phoca Cart modules: