Phoca Gallery version 2.1.0 Beta has been released. There are two important changes:
changed the parameters behaviour
added new class Library.
VirtueMart Category List Module version 1.0.0 has been released. This module displays category list of VirtueMart categories (only root categories are displayed) in columns. See image: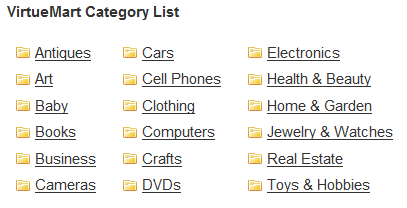 Phoca Gallery version 2.0.2 has been released. This version fixes minor bugs which appeared in version 2.0.1 and fixes bug which occurred when Phoca Gallery was displayed together with some VirtueMart module.
Phoca Guestbook version 1.3.1 stable has been released. In this version some minor language bugs were fixed.