Phoca Maps component 1.1.1 has been released. In this version small bug in ordering (administration) was fixed.
Download: Phoca Maps download site.
Phoca Gallery version 2.7.5 has been released.
Download: Phoca Gallery download site.
Documentation of new features: Adding Facebook Comments in Phoca Gallery
Demo of new features: Facebook Comments
Changelog:
Fixed problem with displaying empty boxes in case Picasa images are displayed
Added new ordering option for image ordering

Vote Count Ascending
Vote Count Descending
Vote Average Ascending
Vote Average Descending
Hits Ascending
Hits Descending

Added margin: auto to detail view (image will be centered in templates which overwrite centering in td tags)
Added Facebook Comments support
Added Facebook API ID parameter
Added Facebook Comments Width parameter
Added new parameter - display comments (image comments) in No Popup window.
Phoca Documentation component and Phoca Documentation Navigation plugin version 2.0.0 have been released. Both extensions are designed for Joomla! 1.6 which is in testing phase, so both should be used for testing only.
Download: Phoca Documentation download site.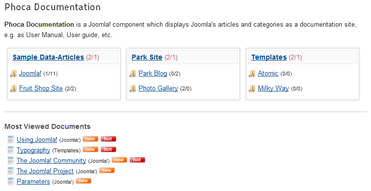 Changelog:
Overwritten to Joomla! 1.6 framework
Removed Sections and Section View
Added New and Hot icons
Changed CSS
Added description to Categories View