Phoca Font component and plugin version 1.0.2 have been released. In this version support for Opera 10 was fixed and added option to set more different fonts on the site. You can download component and plugin on Phoca Font download site. See Phoca Font demo site.
VirtueMart Category List Module version 1.0.1 has been released. In this version new parameter was added. Now you can set if all categories or only root categories will be displayed. You can download the module on VirtueMart Category List module download site.
After upgrade of Phoca Gallery version 2.5.x (and older) to 2.6.0 go to Administration - Components - Phoca Gallery - Users and click on Authorize All button. Because in 2.6.0 there is a new feature (authorize images), you need to make all images, which were added before this version, authorized to display them in the frontend.
Phoca Gallery version 2.6.0 Stable has been released. Minor bugs were fixed and new features added:
Not correctly code in statistics fixed
Fixed width and height parameter used in Picasa in statistics view
Added transparent parameter to 3D Cooliris Wall
Cooliris RSS changed to not conflict with other RSS on the site
Upload Java Applet upgraded to 4.6.0
Multiple Add - puglished/unpublished bug fixed
Exif format for some parameters changed
Google Maps code converted to Google Maps API v3
You can download this version on Phoca Gallery download site.
Phoca Download version 1.3.2 has been released. New features were added:
Option to create menu link to Section View
Option to create menu link to Category View
Option to create menu link to File View
New route library, because of possibility to have different views, added (All these features were added by codejunkie. Thank you for them)
Integration with JComments - Category Commenting
Integration with JComments - File Commenting.
Into Plugin (Phoca Download Plugin and Phoca Download Button Plugin) were added following features:
Play File (Link) - link to playing file (saved in Phoca Download) can be displayed in article
Play File (Direct) - players with playable files (MP3, MP4, FLV) can be displayed and played in the article directly
Preview File (Link) - link to preview file (PDF, JPG, PNG, GIF) can be displayed in article
Youtube video can be displayed in article.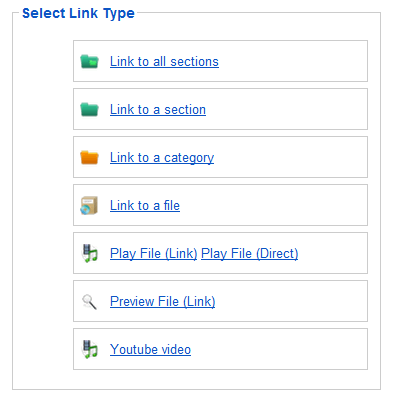 Component and plugins are in Beta stadium, they should not be used on production sites. You can dowload them for testing on Phoca Download download site.