Days, lists, groups, items and description for complete menu can be edited on one page - in text mode. In Phoca Restaurant Menu administration, go to selected menu and click on Raw Edit button.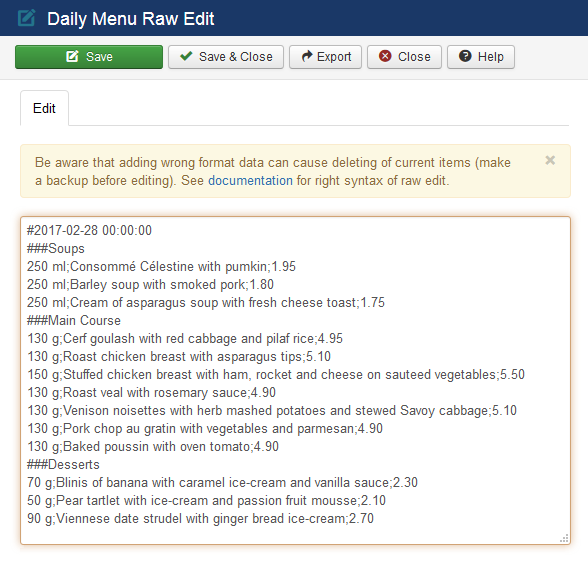 Items can be separated by TAB or SEMICOLON (;). It is recommended to use semicolon because TAB is not visible.
Example:
Your menu will be ready in LibreOffice (or OpenOffice) and you have enabled TAB as item delimiter.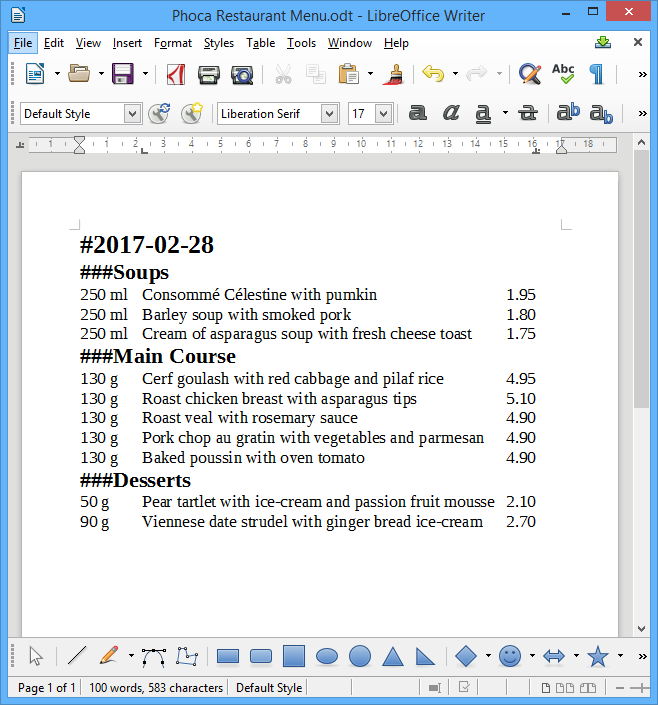 Just copy the text and paste it into form in Phoca Restaurant Menu Raw Edit: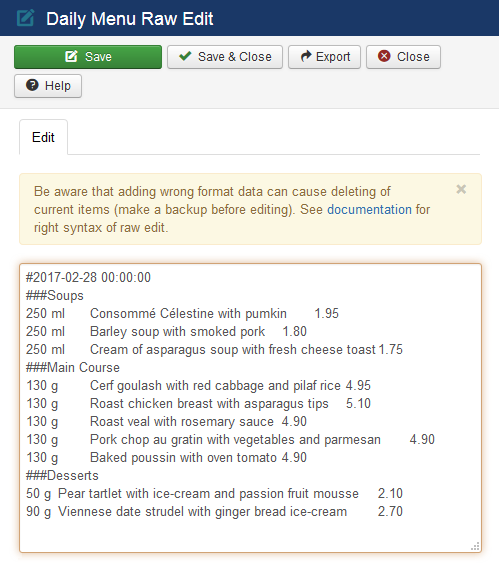 Click Save and your menu will be ready for frontend displaying. Frontend displaying of menu with help of Bootstrap 3: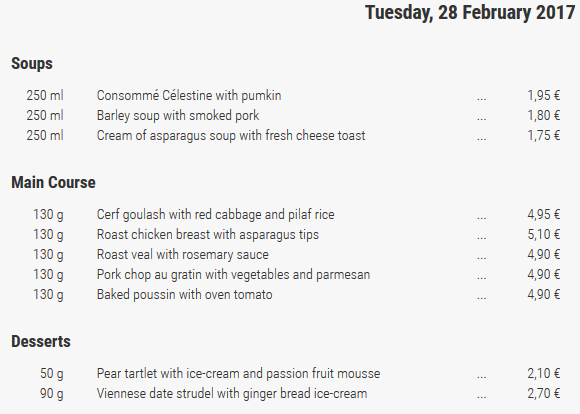 Be aware that adding wrong format data can cause deleting of current items (make a backup before editing). See the following syntax of raw edit.
DAILY MENU
#Date
###Group
>Group Description
Quantity;Title;Price1;Price2;Item Description; Image ID

WEEKLY MENU
#Date From-Date To
##Day
###Group
>Group Description
Quantity;Title;Price1;Price2;Item Description; Image ID

BEVERAGE LIST
WINE LIST
BILL OF FARE
##List
###Group
>Group Description
Quantity;Title;Price1;Price2;Item Description; Image ID

BREAKFAST MENU
LUNCH MENU
DINNER MENU
###Group
>Group Description
Quantity;Title;Price1;Price2;Item Description; Image ID
When editing menu with Raw Edit, don't use the following characters in Day, List, Group or Item name (even in the Description):
#, ##, ###, >, ; TAB
These characters are used for formatting menu:
# Date
## Day or List
### Group
> Description
; or TAB is delimiter for items