What is Cooliris (formerly known as PicLens)?
Cooliris displays a full-screen 3D slideshow (presentation) of your Phoca Gallery images.
To use it you need to install a PicLens extension on your browser.
How to enable Cooliris support for your gallery:
Go to Phoca Gallery Parameters - enable Cooliris
Go to Phoca Gallery - Categories - Select category (or all categories) - Click on Cooliris Button (top right) to create Cooliris RSS file(s). These files are needed for successfully displaying of the Cooliris slideshow.
Your Phoca Gallery (selected categories) will be ready for Cooliris.
Displaying Cooliris 3D Wall
You can set a view for Cooliris 3D Wall in Phoca Gallery. Go to Menu Manager - e.g. Main Menu - Create new menu link. Select menu item type:
Phoca Gallery - Cooliris 3D Wall Layout. In Parameters (Basic) you should select the category which images should be displayed in Coolirs slideshow (the RSS file needs to be created for this category in Phoca Galelery - Category). Save the menu link. Now the Cooliris 3D Wall should be displayed on your site.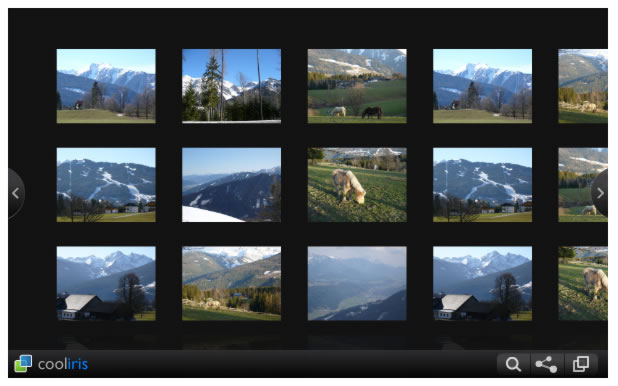 Normally, Adobe Flash will prevent the wall from loading the RSS feed from your website. To allow the application to load your feed, you will need to place a crossdomain.xml file at the root of your website (You will find this file in Phoca Gallery installation ZIP package: ZIP Package/other/cooliris/crossdomain.xml)