Phoca Restaurant Menu demo site. Phoca Restaurant Menu is a Joomla! CMS extension which makes it easy to create menus for restaurants, cafes, fast food, school canteens, buffets, bars, clubs, wine shops.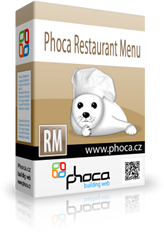 See following examples which were created by Phoca Restaurant Menu component:
Daily Menu ( Tagesmenü )
Breakfast Menu (Frühstücksmenü)
Lunch Menu (Mittagsmenü)
Dinner Menu (Abendmenü)
Click on PDF icon to test generating PDF menus or click on Print icon to display menus ready for print. Switching languages function is created with help of standard multilanguage Joomla! core feature.
This demo website is powered by:
See Joomla! 2.5 and Phoca Restaurant Menu demo site too.
RSS feed can be displayed for Daily Menu and Weekly Menu. Such feed can be used for displaying menu on Facebook or Twitter. Another method to display menu on social media websites is using Screenshot feature in administration. With one click, the photo of menu is saved to the clipboard and can be easily pasted into social media websites.



This demo website even includes demo of features of other Phoca extensions. For example ordering of items in Phoca Cart. Ordering feature is not a part of Phoca Restaurant Menu component but a feature of Phoca Cart component.