Phoca Gallery Random Image Module 2.1.0 has been released. Added:
Shadowbox support
Modal Box (only image) support
Highslide JS support
Highslide JS (only image) support
Pick Color Button in Parameters
Library Class behaviour (prevent from loading external Javascript or CSS libraries multiple times if Phoca Extensions are displayed on the site)
Phoca Gallery Component version 2.1.0 or any later is needed to run this module correctly.
Phoca Gallery 2.1.0 RC has been released. In this version the category tree function was optimized. This should reduce the loading time of category tree to minimum while editing category in administration area.
Phoca Gallery version 2.1.0 Beta has been released. There are two important changes:
changed the parameters behaviour
added new class Library.
VirtueMart Category List Module version 1.0.0 has been released. This module displays category list of VirtueMart categories (only root categories are displayed) in columns. See image: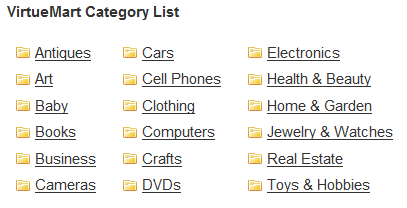 Phoca Gallery version 2.0.2 has been released. This version fixes minor bugs which appeared in version 2.0.1 and fixes bug which occurred when Phoca Gallery was displayed together with some VirtueMart module.