Phoca PDF plugin is a part of Phoca PDF framework, which is a component for Joomla!. After installing this component you need to install and enable Phoca PDF plugin - specific plugin for specific part of Joomla! (e.g. plugin for content). You can manage Phoca PDF plugins in standard Joomla! Plugin Manager.
The whole Phoca PDF framework contains:
Phoca PDF component
Phoca PDF fonts
Phoca PDF plugins
See Phoca PDF site for getting more information.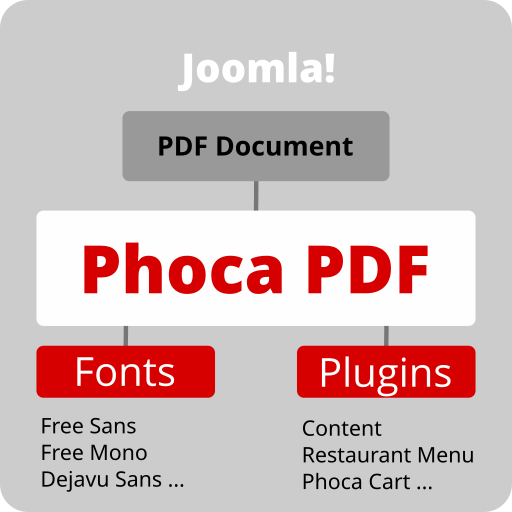 Requirements:
Joomla !1.5, 2.5, 3.x (stable or any later version)
PHP 5 (or any later version).
Available Plugins:
| Name | Requirements | Status |
| --- | --- | --- |
| Phoca PDF Content | PHP5 or any later version, Joomla! 1.5, 2.5, 3.x, Phoca PDF component with installed font | released |
| Phoca PDF System | PHP5 or any later version, Joomla! 3 or any later version, Phoca PDF component with installed font | released |
| Phoca PDF VirtueMart IDnR | PHP5 or any later version, Joomla!1.5, Phoca PDF component with installed font, VirtueMart1.1, VirtueMart IDnR Addon | released |
| Phoca PDF Cart | PHP5 or any later version, Joomla! 3 or any later version, Phoca Cart component | released |
| Phoca PDF Restaurant Menu | PHP5 or any later version, Joomla! 3 or any later version, Phoca Restaurant Menu component | released |