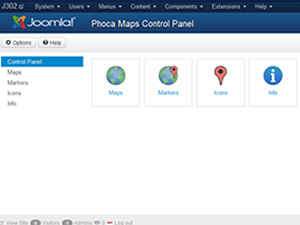 Phoca Maps component version 3.0.3 and Phoca Maps Content plugin version 3.0.3 have been released.
Download: Phoca Maps download site.
Changelog:
Added Load API SSL parameter to backend
Removed marker icon shadows
Changed code in administration list view - to properly order the items
Added rule to prevent from indexing Phoca Maps Content plugin in Smart Search component
Added support for Meta description and Meta keywords in map view
Changed code to properly handle the Scroll Wheel Zoom parameter
Added method to fix possible image path problems in description
Removed obsolete parameter: sensor
Zoom level not more ignored when using KML file
Added displaying of marker icons in marker edit view
Plugin now accepts Close Opened Window parameter
If you find any bug, please report it in Phoca Forum. Thank you.
Google™ is a trademark of Google Inc.
Google Maps™ is a trademark of Google Inc.