Phoca Gallery Themes can be installed in Phoca Gallery component. With help of these themes you can easily change the frontend design of your gallery.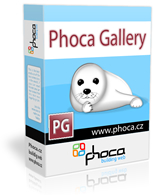 Requirements:
Joomla! 1.5, 2.5, 3.5 stable or any later version
PHP (see current Joomla! PHP requirements)
Phoca Gallery component.
Installation:
Go to Joomla! Administration » Components » Phoca Gallery » Themes » Select the Theme file from your harddisc and click on Upload File & Install.