In today's digital age, having an online presence for your restaurant is crucial. To effectively showcase your culinary offerings and engage with potential customers, you need a reliable content management system (CMS) that suits your needs. Two popular options for creating restaurant menus and managing content are:
Phoca Restaurant Menu for Joomla - a Joomla component
and Phoca Restaurant Menu WP Edition - a WordPress Gutenberg plugin.
In this article, we'll explore the key differences between these two solutions and help you decide which one is the right choice for your restaurant's online presence.
Joomla vs. WordPress: The CMS Landscape
Before diving into the specifics of Phoca Restaurant Menu extensions, let's briefly compare Joomla and WordPress. Joomla is known for its robust and feature-rich platform, making it an ideal choice for complex websites with diverse needs. It offers a wide array of options and customization possibilities.
On the other hand, WordPress is renowned for its simplicity and ease of use. It's a go-to choice for individuals and businesses looking to quickly set up a website and produce straightforward content. WordPress excels in delivering user-friendly experiences, but it may lack some advanced features compared to Joomla.
Phoca Restaurant Menu for Joomla
Phoca Restaurant Menu for Joomla is a comprehensive extension designed to cater to various food-related businesses, including restaurants, cafeterias, fast-food joints, and more. Here are some of the key features and functionalities that Joomla users can enjoy with this extension:
Versatile Display Options: Joomla users can display their restaurant menus in multiple formats, including HTML, PDF, and RSS. This versatility ensures that your menu can reach your customers through various channels.
Email Integration: You can send menu updates directly to your customers via email, keeping them informed about your offerings and promotions.
Screenshot Generation: Automatically create menu screenshots, perfect for sharing on social media platforms to entice potential diners.
Multilanguage Support: Phoca Restaurant Menu is ready for multilanguage support, making it suitable for restaurants targeting diverse customer bases.
Administration Methods: Joomla users can choose from various administration methods, including step-by-step item addition, bulk import, or raw text entry using Markdown.
Various View Types: The Joomla version offers a variety of view types, such as Daily Menu, Weekly Menu, Bill of Fare, Beverage List, Wine List, Breakfast Menu, Lunch Menu, and Dinner Menu.
Download: Phoca Restaurant Menu (Joomla) download site.
Demo: Phoca Restaurant Menu Joomla demo site.

Phoca Restaurant Menu WP Edition (WordPress Gutenberg Plugin)
The WordPress Gutenberg plugin edition of Phoca Restaurant Menu is designed for simplicity and ease of use. It caters primarily to users who require straightforward menu display options for their restaurant websites. The key features of the WordPress edition include:
User-Friendly: WordPress is known for its user-friendly interface, making it an excellent choice for individuals and businesses seeking a hassle-free website setup.
Menu Display: Just like its Joomla counterpart, the WordPress edition allows you to display menus for your restaurant with ease.
View Types: The WordPress edition offers following menu types: Daily Menu, Weekly Menu, Bill of Fare, Beverage List, Wine List.
Download: Phoca Restaurant Menu WP Edition (WordPress) download site.
Demo: Phoca Restaurant Menu WP Edition demo site.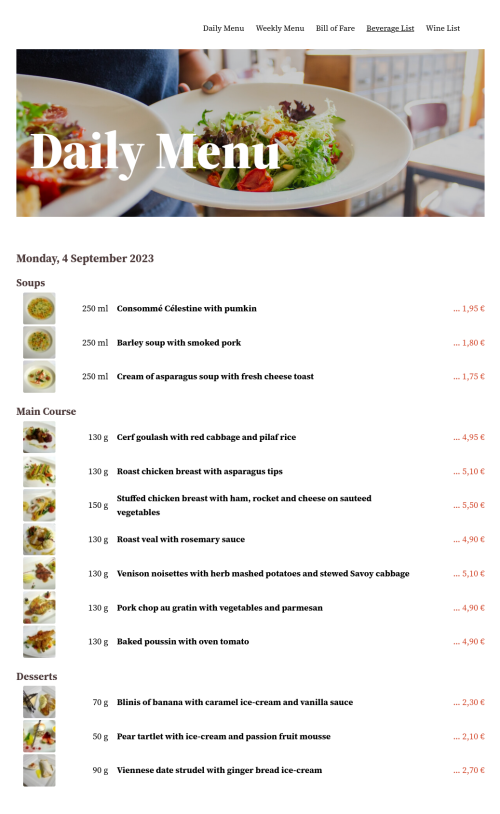 Choosing the Right Version for Your Restaurant
In summary, when it comes to selecting the right version of Phoca Restaurant Menu for your restaurant, consider your specific needs and your familiarity with the CMS platforms. For users looking to create a simple restaurant website with straightforward menu display, the WordPress Gutenberg plugin edition is an excellent choice. Its user-friendly interface and menu display options make it a convenient solution.
However, if you have more complex requirements, such as multilingual support, advanced administration methods, and diverse display options, Joomla's Phoca Restaurant Menu is the better fit. Joomla's flexibility and extensive feature set make it ideal for restaurants with intricate needs.
In the end, the choice between Joomla and WordPress versions of Phoca Restaurant Menu depends on your restaurant's specific requirements. Both options offer powerful tools to enhance your online presence, ensuring that your culinary creations reach your target audience effectively. When making your decision, remember that Joomla suits complex websites, while WordPress shines for simplicity, catering to users who prioritize ease of use.
In conclusion, the Phoca Restaurant Menu extension offers versatile solutions for restaurant websites, catering to both Joomla and WordPress users. Evaluate your needs and CMS preferences to make an informed choice and elevate your restaurant's online presence.