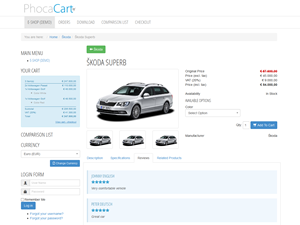 Phoca Cart component development version 3.0.0 Beta2 has been released.
Changelog (in comparison to Beta1):
Removed duplicate language strings
Added missing language strings
Added minimum order amount parameter (checkout)
Added link to product in comparison view
Added new parameter: Tags (Links)
Added select box of products in Product view
Added required attribute for parameter Select Products in Product view menu options
Fixed problems with storing Coupon ID
Order and stock status can be set as language string
Added hot icon/tag feature
Added new icon/tag feature
Added featured product icon/tag feature
Added filtering feature
Added filter module
Added searching feature
Added search module
Added linking of tags to items view (filtering by tags)
Added new product columns: serial number, registration key, external id, external key
Added external Buy Now button (paddle)
Added product module
Added category module
Be aware, Phoca Cart is a Beta version and it is still in development.

If you find any bug or you have some feature request idea, please post a topic to Phoca Forum. Thank you.
Screenshots: Phoca Cart screenshots site.
Demo: Phoca Cart demo site.
Download:
Phoca Cart component download site.
Phoca Cart download site.
Modules:
To test Phoca Cart, you need to run Joomla! 3 and template with Bootstrap 3 design, see Phoca Gweld:
Inside Phoca Gweld installation package you will find Phoca Upgrade plugin - install this plugin and enable it in your Plugin Manager - it is a system plugin which tries to change Bootstrap 2 design (rendered by Joomla! 3) to Bootstrap 3 design.
See this article: How to install sample data in Phoca Cart to easily test the component.