Phoca Gallery is a Joomla! gallery - image gallery for Joomla! CMS. It includes component, modules and plugins and allows users to display images or Youtube videos in many different styles.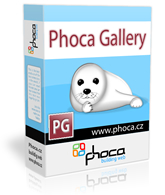 Requirements:
Joomla!1.5.10 (stable or any later version)
PHP 4.4.1 (or any later version) with GD library (graphics library for thumbnails creation).
For displaying images you can use the component only. If you want to display images in articles, you can use Phoca Gallery Plugin (and Phoca Gallery Button plugin - for easier adding of images into articles). Images can be displayed as slideshow in articles with help of Phoca Gallery Slideshow plugin or they can be displayed on module positions in Joomla! (with help of Phoca Gallery Image module).