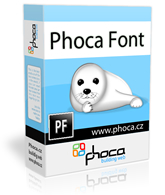 Phoca Font Component is a Joomla! component. This component adds support for using downloadable fonts in your Joomla! site. You can upload and select your own .ttf or .otf font file. Font included in this font file will be rendered on your site (with help of @font-face rule).
This feature is supported by following browsers:
Firefox 3.5
Opera 10
Safari 3.1
IE6, IE7, IE8 (in case, eot file is included)
Requirements:
Joomla!1.5.10 (stable or any later version)
PHP 4.4.1 (or any later version).
Font can include following attributes:
regular
bold
italic
bold italic
condensed
condensed bold
condensed italic
condensed bold italic
If you want to add your own font file on your site, be aware of size of the font. Font with large size can slow down displaying of your site.